Skye Bioscience Completes Production and Filling of Investigational Drug Material in Preparation for Phase 2a Glaucoma Clinical Trial
San Diego, California--(Newsfile Corp. - July 6, 2023) - Skye Bioscience, Inc. (OTCQB: SKYE) ("Skye" or the "Company"), a pharmaceutical company developing a proprietary, synthetic cannabinoid derivative to treat glaucoma and ocular hypertension, announces that its contract manufacturer, NextPharma Oy, in Finland, has completed production of placebo and SBI-100 Ophthalmic Emulsion ("OE") for its planned Phase 2a study of glaucoma and ocular hypertension. NextPharma has also completed filling of the drug materials into strips of 10 single-use vials. Skye is completing additional logistical and preparatory steps necessary to start this study.
"We selected NextPharma as our contract manufacturer to position ourselves for eventual commercial manufacturing including drug formulation, fill and finish capabilities, and rigorous quality systems," said Tu Diep, Chief Development Officer. "We needed to transfer our drug production process to them and have them evolve and implement the necessary procedures to produce our drug at scale. Their expertise and our commitment to collaboration ensured that this technology transfer has gone well. I am pleased to say that while we still have a list of preparatory steps to complete, some subject to the timelines of external agencies, completion of production has reduced science and production-related risks on our path to our Phase 2a study and these final steps will be readily managed by our team.
"This study, which we expect to start enrolling in the third quarter, will for the first time ever primarily focus on the efficacy of a synthetic pro-drug in human subjects targeting the CB1 receptor of the endocannabinoid system with the goal of reducing intraocular pressure of the eye," he added.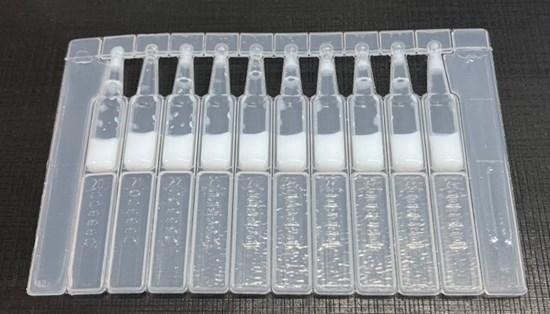 Example of NextPharma single-use vial strip for Skye clinical study

To view an enhanced version of this graphic, please visit:
https://images.newsfilecorp.com/files/8897/172464_794c601d4425ebfd_001full.jpg
Skye previously announced the opening of its Investigational New Drug application (IND) with the FDA; central Investigational Review Board study level approval of its Phase 2a clinical trial protocol; and retention of Lexitas Pharma Services, a specialized ophthalmic-focused contract research organization, to support the clinical trial.
Additional steps that must be completed to enable the start of this study include a quality assurance release of the clinical product to ensure the drug product meets specification; receipt of Finland/US export/import licenses for the clinical study material; packaging and shipment of product from Finland to the US; preparation of kits for the Phase 2a clinical trial subjects; US DEA approvals of the clinical trial sites; and an update of the IND to reflect the final clinical trial protocol information.
About SBI-100 Ophthalmic Emulsion
Skye's SBI-100 OE possesses a novel molecular structure and nanoemulsion formulation that were designed to enable effective topical delivery and better penetration of a CB1R agonist into ocular tissue. In preclinical studies involving three different species, the drug resulted in enhanced therapeutic efficacy and duration of response in lowering IOP, comparing favorably to the standard of care for treating glaucoma.
About Skye Bioscience
Skye Bioscience is a pharmaceutical company unlocking the pharmaceutical potential of the endocannabinoid system, initially with a focus on the CB1 receptor, through the development of proprietary molecules to treat diseases with significant unmet needs. The Company's lead program, SBI-100 OE, is focused on developing a treatment for glaucoma, the world's leading cause of irreversible blindness. For more information, please visit: www.skyebioscience.com.
CONTACT
Investor Relations
Email: ir@skyebioscience.com
Phone: (858) 410-0266
FORWARD-LOOKING STATEMENTS
This letter contains forward-looking statements, including statements regarding our product development, business strategy, the timing of clinical trials, and commercialization of cannabinoid-derived therapeutics. Such statements and other statements in this press release that are not descriptions of historical facts are forward-looking statements that are based on management's current expectations and assumptions and are subject to risks and uncertainties. If such risks or uncertainties materialize or such assumptions prove incorrect, our business, operating results, financial condition, and stock price could be materially negatively affected. In some cases, forward-looking statements can be identified by terminology including "anticipated," "plans," "goal," "focus," "aims," "intends," "believes," "can," "could," "challenge," "predictable," "will," "would," "may" or the negative of these terms or other comparable terminology. We operate in a rapidly changing environment, and new risks emerge from time to time. As a result, it is not possible for our management to predict all risks, nor can we assess the impact of all factors on our business or the extent to which any factor, or combination of factors, may cause actual results to differ materially from those contained in any forward-looking statements the Company may make. Risks and uncertainties that may cause actual results to differ materially include, among others, our capital resources, uncertainty regarding the results of future testing and development efforts and other risks that are described in the Risk Factors section of Skye's most recent annual or quarterly report filed with the Securities and Exchange Commission. Except as expressly required by law, Skye disclaims any intent or obligation to update these forward-looking statements.
To view the source version of this press release, please visit https://www.newsfilecorp.com/release/172464
SOURCE Skye Bioscience, Inc.
Released July 6, 2023